Topics:
The X Questions: Strategy for the Next Healthcare
   2015 through 2017 present a unique and compelling opportunity for healthcare executives to drive deep change. The key questions are different now from what they were in the past, even from what they were last year. Most of today's healthcare CEOs and C-suite leaders are missing many of the key questions they need to ask to drive strategy now, this year, this budget, in order to survive the next three to seven years. Which of these ten strategy questions are you missing?
Where We're Really Headed: Health Care 2020 and Beyond
   The trends, vectors, and forces that are rapidly re-shaping health care are far deeper and broader than what is written into the health care reform act. Within a decade the structure, economics, legal position, and technological underpinnings of health care will be nearly unrecognizable. The organizations that thrive in these changes will be the organizations that best understand, anticipate, and build for them.
Data-Driven Health Care: Better Faster Cheaper
   For the first time, we have the potential to use real data to drive health care effectiveness. But large practical obstacles bar the way. We can't get there from here without specific action and real leadership from across the industry.
High Tech's Unfolding Future for Healthcare
   The tech trends of healthcare and life sciences are changing rapidly under very serious economic, demographic, and political vectors. If we pay attention not just to technical advances but to the deep factors underlying global change, as well as to pockets where the future is already appearing, we can begin to pick out what kinds of innovation are going to have key roles in leveraging large-scale discontinuous change across healthcare.
About Joe Flower: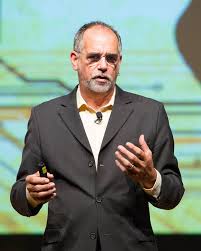 With over 30 years' experience, Joe Flower has emerged as a premier observer and thought leader on the deep forces changing healthcare in the United States and around the world. As a healthcare speaker, writer, and consultant, he has explored the future of healthcare nationally and internationally, with clients ranging from the World Health Organization, the Global Business Network, and the U.K. National Health Service, to the majority of state hospital associations in the U.S. as well as many of the provincial associations and ministries in Canada, and an extraordinary variety of other players across healthcare – professional associations, pharmaceutical companies, device manufacturers, health plans, physician groups, and numerous hospitals.
   Flower is the author of the new book Pushing Healthcare to the Tipping Point: A Handbook for the Revolutionaries – Doctors, Nurses, Healthcare Leaders, Inventors, Investors, Employers, Insurers, Governments, Consumers, You. It is a true manual for how each of us can get much better, much cheaper healthcare for ourselves, our families, while revolutionizing the system at the same time. Flower details how healthcare leaders and other readers can and already are shaping the Next Healthcare in the decisions they are now making as they sell into, invest in, manage, and buy healthcare.  He offers a unique, comprehensive framework for understanding the transformation underway and how to make intelligent and strategic choices for oneself and for one's organization. Pushing Healthcare To the Tipping Point paints the big picture of how healthcare works and how it is changing and why, building on his previous work, Healthcare Beyond Reform: Doing it Right for Half the Cost, a widely acclaimed manifesto on where healthcare is and has to be heading.
   Flower was a contributing writer for Wired Magazine in its explosive early years, and a columnist for the pioneering health websites DNA.com and HealthCentral.com. He was a founding member of the International Health Futures Network and the principal author of the landmark healthcare forecast, "Technological Advances and the Next 50 Years of Cardiology," Journal of the American College of Cardiology.