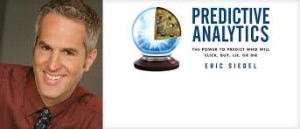 Predictive Analytics: Delivering on the Promise of Big Data
The excitement over "big data" has grown dramatically. But what is the value, the function, the purpose? The most actionable win to be gained from data is prediction. This is achieved by analytically learning from data how to render predictions for each individual. Such predictions drive more effectively the millions of operational decisions that organizations make every day. Eric Siegel reveals how predictive analytics works, and the ways in which it delivers value to organizations across industry sectors.
Predictive Analytics for Marketing: Learning from Data to Predict
Prediction is the holy grail of marketing. Foreseeing each customer purchase, click, and cancellation is the ultimate means to drive more effective, per-customer decisions. And today's enterprise has a wealth of marketing experience from which to learn to predict – aka, data. This learning process is called predictive analytics. Eric Siegel describes how this technology leverages big data, learning from it in order to drive more effective marketing.
Five Ways to Lower Costs with Predictive Analytics
Question: How does predictive analytics actively deliver increased returns? Answer: By driving operational decisions with predictive scores – one score assigned to each customer. In this way, an enterprise optimizes on what customers WILL do. But, in tough times, our attention turns away from increasing returns, and towards decreasing costs. On top of boosting us up the hill, can predictive analytics pull us out of a hole? Heck, yes. Marketing more optimally means you can market less. Filtering high risk prospects means you will spend less. And, by retaining customers more efficiently, well, a customer saved is a customer earned – and one you need not acquire.
In this keynote, Eric Siegel will demonstrate five ways predictive analytics can lower costs without decreasing business, thus transforming your enterprise into a Lean, Mean Analytical Machine.
Persuasion by the Numbers: Optimize Marketing Influence by Predicting It
   Data driven marketing decisions are meant to maximize impact – right? Well, the only way to optimize marketing influence is to predict it. The analytical method to do this is called uplift modeling. This is a completely different animal from what most models predict: customer behavior. Instead, uplift models predict the influence on customer behavior gained by choosing one marketing action over another. The good news is case studies show ROI going where it has never gone before. The bad news? You need a control set… But you should have been using one anyway! The crazy part is that "marketing influence" can never be observed for any one customer, since it literally involves the inner workings of the customer's central nervous system. If influence can't be observed, how can we possibly model and predict it?
About Eric Siegel:
The president of Prediction Impact, Inc., author of the acclaimed book, Predictive Analytics: The Power to Predict Who Will Click, Buy, Lie, or Die, Executive Editor of the Predictive Analytics Times, and the founder of Predictive Analytics World and Text Analytics World, Eric Siegel is an expert in predictive analytics and data mining and a former computer science professor at Columbia University, where he won the engineering school's award for teaching, including graduate-level courses in machine learning and intelligent systems – the academic terms for predictive analytics.
After Columbia, Dr. Siegel co-founded two software companies for customer profiling and data mining, and then started Prediction Impact in 2003, providing predictive analytics services and training to mid-tier through Fortune 100 companies.
Dr. Siegel is the instructor of the acclaimed online training program, Predictive Analytics Applied. He has published over 20 papers and articles in data mining research and computer science education and has served on 10 conference program committees.